Designed by experts in the finance industry, who were determined to disrupt the structured investment market VIZIBILITY is an innovative all-in-one platform that brings all phases of the Structured Product trade cycle under one umbrella, allowing multi-level users to monitor, create, & manage Structured Products.
A powerful platform that ensures total VIZIBILITY to trade and manage Structured Products. Discover our advanced analytics platform designed to provide users with the best intelligence and insight, to analyze, monitor and execute with confidence in real time.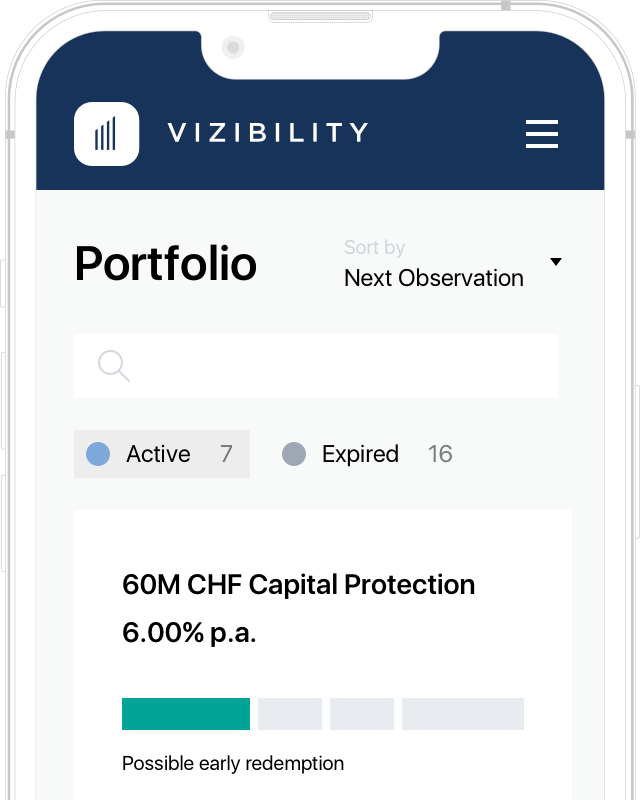 VIZIBILITY is a trustworthy partner for Portfolio Managers, Advisors, Private Banks, Custodians, Risk and Compliance Officers & Private Investors. by providing the most transparent, objective, and easy-to-manage tools so they can positively impact their clients' financial future.
Our goal is breaking down the complexity and the barriers of the Structured Product Business and making it accessible for millions of new and existing investors, at all levels to harness the full growth potential of their business.
Our mission is creating modern, digital-first experience and a smart solution to believe in for our customers and their investors.
Our legacy is our technology.
Our Team
Our people make the difference
Our team is composed of experts in the structuring of financial assets and private banking specialists who have provided management services and advice to high-net worth clients, asset managers and institutional clients for years.
Our people lead the digital transformation of the structured products industry, providing innovating solutions and outstanding services.
We have a dedicated team to support all the way of the process.
products under management
price discoveries per month
Our Clients
Some of our trusted partnerships are: